The IBC states that when footings bear on compacted fill greater than 12 inches, the fill material must comply with an approved report and goes on to list the requirements of that report. Most municipalities also state that footings must bear in natural soils unless the fill has been designed and placement monitored by a registered professional. Two things. One, can the report be done after the fill has been placed. No. The requirements listed by the code are pretty common to issues addressed in a standard geotechnical report but must be addressed prior to construction. Two, is natural soil automatically better than fill soil? Absolutely Not. Then, why does the code make this differentiation and is it valid?

Footings are relatively narrow and stress the underlying soils to a relatively shallow depth. Fill, on the other hand, is placed over at least the footprint of the entire structure to be constructed and as a result can stress the underlying soils to considerable depths. But this is just soil, you say. Yes, but to the underlying soils, this is additional load that it is being subjected to that it has yet to experience, just like the structure. We typically estimate the deadweight of fill to be 115 pounds per cubic foot. Placed over the larger area, the weight of the fill can easily exceed the weight of the structure itself.

This issue is of particular concern on sites where the depth of fill varies considerably, say little or no fill on one side of the structure to several feet of fill on the other side. Since, without a subsurface investigation, we are not aware of conditions such as a compressible soft clay layer that may exist, this situation is a major cause of damaging differential settlement. In the illustration below you can see that the weight of the fill has resulted in damaging differential settlement as a result of a compressible layer located many feet below the ground surface. The loads from the footings on the left side of the structure reaching the clay layer have not produced appreciable settlement.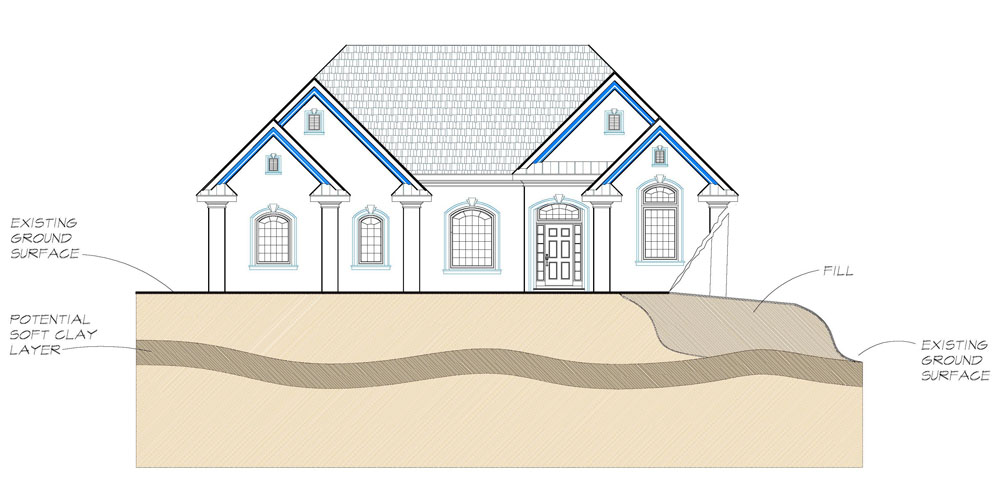 It's important to determine if compressible soils exist within the sphere of influence caused by the deadweight of any proposed fill.
If you have questions about your site, or are unsure if these issues may impact your project, don't hesitate to contact your geotechnical professional to discuss PRIOR to proceeding. Remember, in most cases, these issues either cannot be addressed after the fact or the correction will be massively expensive.